Health Insurance in Canada: Information by Provinces
Health care in Canada is funded by the state from taxes received by the treasury. Citizens and permanent residents of Canada with state health insurance do not pay for most medical services. You can get a medical insurance policy in your province or territory.
In some provinces, people who have only received a residence permit can immediately take advantage of local health insurance programs. Other provinces set a waiting period of up to three months. During this period, private medical insurance comes to the rescue.

Private insurance may be useful to cover the cost of services not covered by government programs. Sometimes fees for physiotherapeutic, dental and ophthalmological services are covered by insurance, which is issued by the employer to its employees.
Medical Assistance in Canadian Provinces
Ontario health insurance
OHIP is the name of the Ontario health insurance plan. It covers a doctor's appointment, hospitalization, abortion, an ambulance call, some dental surgeries, podiatry, and optometry. When you go to a doctor, you must present your medical policy.
You can get OHIP three months after arriving in Ontario at any provincial office. To do this, you must provide a completed form 0265-82, ID, proof of residence in Ontario (for example, utility bill) and a valid residence permit.
British Columbia health insurance
In British Columbia, health insurance is called a Medical Care Plan (MSP). It can be obtained three months after arriving in the province. BC residents pay a monthly fee to their insurance account if annual income exceeds 26 thousand dollars (see table).
MSP covers the services provided by doctors, midwives, dental surgeries and oral surgery, necessary eye examinations and X-rays.
Procedures not required from a medical point of view, routine eye examinations, payment of prescribed medications, dentistry, except for the mentioned surgical interventions, are not included in the policy. In this case, you must either pay for the services yourself or buy an additional insurance policy.
Alberta health insurance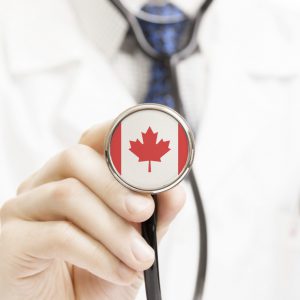 Alberta Health Insurance is known as the Alberta Health Insurance Plan (AHCIP). It can be issued from the date of arrival in the province, subject to compliance with all requirements.
To obtain a policy, you must provide proof of residence in Alberta (these may be bills and receipts for utilities), an identity card (passport or driver's license) and a certificate confirming the legality of your stay in Canada (permanent resident card or immigration document issued at the point of entry) .
Quebec health insurance
In Quebec, health insurance board of Quebec, or RAMQ, provides health insurance services.
Residents arriving in Quebec from outside Canada are eligible to cover medical expenses not immediately, but within three months after the date of registration. Those who came to work temporarily may also receive a policy in Quebec. To do this, you must submit a valid immigration document for six months, indicating the employer.
Getting a policy is better not to postpone. To do this, visit the RAMQ office, where you can receive and fill in the necessary registration form. Apply online.
The documents required for obtaining health insurance for permanent residents include the original permanent resident card (or another document issued by immigration authorities that allows permanent residence) and, in most cases, documents on residence in Quebec. Such papers can be a copy of a rental / purchase agreement or a certificate from work.
Saskatchewan health insurance
In Saskatchewan, a medical policy is simply called a "health card" (Saskatchewan Health Card). To obtain it, you must prove your identity, the right to stay in Canada and your residence in the territory of Saskatchewan. The application can be submitted via the Internet.
The policy includes all medical services, both inpatient and outpatient.
Manitoba health insurance
Permanent residents are entitled to medical care in Manitoba from the day they receive the status. To obtain an insurance certificate, you must provide a photocopy of your passport, all immigration documents and a completed registration form.